Blog Post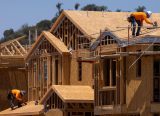 CNBC
According to a recent report released by the California Association of Realtors, which included data through the end of June 2022, the California housing market is cooling down quickly in response to the jump in mortgage rates.
This phenomenon is not confined to California but builder sentiment, according to the NAHB HomeBuilder Sentiment Index, showed deterioration in the new home market is the worst on the West Coast. As such, contract cancellations are rising quickly and builders have begun to lay off employees.
Historically, the number of new homes for sale and the number of new homes sold diverge, it tends to predict the onset of recessions. Consider the chart below by RIA. (Click on the chart image to enlarge)

According to the GDP numbers released, today, growth for the 2nd Quarter came in at -.9%. (And that is likely to be revised downward in coming months) That makes it two consecutive quarters of negative growth in the U.S., indicating that we have been in a recession since January.

That considered, one would think that California housing prices are about to fall dramatically. But analysis by lending institutions suggest that this may not be the case and we may only see a marginal drop in home prices.
One might assume that this is good news and that buying a home will get more affordable, but that's unlikely if you look at prices relative to higher mortgage rates. And significant reductions in rents are equally unlikely -- when buyers stop buying homes, the demand for rentals goes up.
The wild card, of course, is how long and deep with the current recession will be. The answer to that is no one has a clue.
At the same time, we're seeing a precipitous drop in the cost of construction materials: lumber, concrete, and fabricated components. This will help smaller, local developers the most. But they will need more help than that to build more infill, affordable housing in communities where the need is greatest.
Fewer housing laws and more real solutions are still needed.

---
Bob Silvestri is a Marin County resident, the Editor of the Marin Post, and the founder and president of Community Venture Partners, a 501(c)(3) nonprofit community organization funded by individuals and nonprofit donors. Please consider DONATING TO THE MARIN POST AND CVP to enable us to continue to work on behalf of California residents.