Notice Post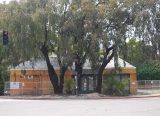 Kirk Knauer
April 25, 2020
1:00 pm - 2:00 pm
---
Do you know about plans to cut down the four magnificent Red Ironbark Eucalyptus (non-fire hazard) trees at the corner of East Blithedale and Camino Alto, former site of Gira Polli?
These majestic 50' environmentally beneficial trees are approved to be cut down to accommodate Apizza's new landscape plan that includes seven English Oaks and two fruitless Olive trees with a new plant height of about 14 feet.
The Mill Valley staff recommended and the City Planning Commission agreed to approve the Tree Removal Permit. Freeman Park Neighborhood Association appealed the decision.
The staff and Planning Commission overlooked three key points:
There are superior ways to address the stated reasons for removal.
The current mature trees offer environmental benefits that newly planted trees can't match.
Cutting down trees during a global pandemic, with extreme health and economic implications, doesn't change the basic business plan of the applicant, but is a disservice to environmental health, stability, and quality of life for residents of Mill Valley.
Please join us for a
Zoom Tree Town Hall
meeting on Saturday, April 25 at 1:00 pm with host Susan Kirsch, President, Freeman Park Neighborhood Association and the Freeman Park Board.
https://us02web.zoom.us/j/81735137456?pwd=clBmYk9MaHl2THBWQkkzZ2NIQm8zUT09
Mtg ID: 817 3513 7456; Password: 780080
To learn more, read "Frequently Asked Questions."
What can you do?
Send an email: CityCouncil@CityofMillValley.org. Write: Save the Trees in the Subject Line. Submit by April 28 for inclusion in the staff packet distributed April 29.
On May 4, watch the City Council meeting. It's another opportunity to submit comments. http://www.cityofmillvalley.org/gov/agendas/watchonline.htm
Visit our website: SaveTheTreesMillValley.com
Post comments on NextDoor and encourage participation.
Encourage neighbors to send an email to the City Council and watch the proceedings.
Take a closer look at the trees next time you drive by. Imagine them gone.
Trees & Pizza—A Winning Combination!
---
Organization: Freeman Park Neighborhood Association
Contact: Susan Kirsch
Contact Phone: 415-686-4375
Contact Email:
Website: http://SaveTheTreesMillValley.com
---