Blog Post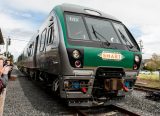 SMART
SMART makes innocuous claims that it was paid for by the 1/4 cent sales tax and has only cost $429 million. So, I decided to dig and understand if this was the real story.

Remember as you read this SMART clearly state they do not help solve congestion, they position themselves as an "alternative" or "option".
(Source: KQED Forum on the Road, June 2016, 16 minute mark)

SMART's Cannibalization of More Efficient Transportation Funding

SMART promised never to divert funding away from other transportation projects. They purported to be self-sufficient on its 1/4 cent sales tax, for which it claimed in Measure Q, to be able to deliver a line from Cloverdale to Larkspur and a multi-use path. Neither of these are being delivered and the excuses continue to pile up. But what about the funding? Has SMART adhered to its promise not to divert?

Here's a list of the SMART's funding to date - this funding is in addition to those generated by the Measure Q sales tax:

(1) $37m from state "Traffic Congestion Relief Program" (TCRP) funds in 2000
This despite SMART admitting it will not reduce traffic congestion. This money was used for planning and engineering.

(2) $48m in Regional Measure 2 Funds in 2005
These are funds generated by Bay Area bridge tolls - collected from road users.
Citation: http://apps.mtc.ca.gov/meeting_packet_documents/ag...

(3) $28m in Proposition 116 State Funding
Proposition 116 was a $2 billion state bond funding initiative approved in 1990. The fiscal impact of the bond is $3.6 billion including repayment of principal and interest.
http://www.catc.ca.gov/reports/1999Reports/1999Ann...

(4) $10.8m Intermodal Surface Transportation Efficiency Act of 1991 Federal Funding
Citation: http://www2.sonomamarintrain.org/userfiles/file/Board%20Workshop%20Agenda%20Packet2.pdf

(5) $21m from Measure M
Measure M is a 1/4c sales tax passed in Sonoma in 2004 with the clearly stated intent of traffic relief (something SMART readily admits they do not contribute to). 5% of Measure M funding is being allocated to SMART.
Citation: http://www.planningforreality.org/wp-content/uploa...

(6) $9.3 million has been diverted from Transportation Authority of Marin (TAM), which was supposed to fund bus services. This was given to SMART so they could balance their budget when they had a deficit (they are not allowed to run in deficit): http://www.tam.ca.gov/Modules/ShowDocument.aspx?do...

(7) $11 million diverted from Caltrans cap and trade (TIRCP) funds supposedly to abate CO2 emissions; in fact this was diverted away from genuinely CO2 abating projects to SMART that is certain to increase emissions. SMART simply cooked the books on ridership stating its capacity (257+) was the same as its' ridership.
Citation: http://www.marinij.com/article/NO/20150630/NEWS/15...

(8) $11.4 million diverted from the 101 Greenbrae Interchange connector, which still badly needs fixing and affects hundreds of thousands of Highway 101 users daily.
Citation: http://www.marinij.com/article/ZZ/20130927/NEWS/13...

(9) $1.45 million from TAM (which could have spent the money on buses) Spent on the downtown Novato station which SMART has yet to even commit to serving and is likely to just be served by a couple of trains at weekends.
Citation: http://www.marinij.com/general-news/20160817/downt...

(10) $3.2 million diverted from the Novato Narrows project to relocate the San Rafael transit center, delaying a project that would help tens of thousands of Highway 101 users compared to a few dozen SMART riders.The transit center serves 9,000 riders daily and the move will be highly disruptive.
Citation: http://www.marinij.com/article/NO/20160623/NEWS/16...

(11) $2.75 million spent by City of San Rafael Taxpayers
This was required to prepare streets and traffic signals for SMART.
Citation: http://www.marinij.com/article/NO/20151020/NEWS/15...

(12) $20m in Federal Funding for the Extension to Larkspur
Citation: http://patch.com/california/sananselmofairfax/obam...

(13) $3m for Train Safety System
From federal funds.
Citation: http://www.marinij.com/article/NO/20160811/NEWS/16...

In Addition
In Addition in October 2015 SMART submitted a memo to TAM requesting an additional $622m of funding. Excluding what has already been covered above additional requests amount to:
(14) $178m Extend from Santa Rosa to Cloverdale
(15) $40m for Rail Freight Improvements

(16) $29m Rail Operations Capacity Enhancements
Potentially $3m of this $29m was funded in item (13).

(17) $11m to add a Second Station to Petaluma

(18) $124m to Construct the SMART Bike Path

(19) $120m to Add Facilities to Stations
Such as ADA features, landscaping, bike and car parking.
(20) $24m to Cover Operational Costs for Local Partnerships with Bus Operators

What Does this All Add Up To?
These additional costs add up to $703.9m, with the grand total including sales tax revenues of $1.47 billion.
| | |
| --- | --- |
| Sales tax revenues | $757M |
| TCRP | $37M |
| RM2 | $48M |
| Prop 116 | $28M |
| ISTEA | $10.8M |
| Measure M | $21M |
| TAM | $9.3M |
| Caltrans | $11M |
| Greenbrae | $11.4M |
| TAM - Novato station | $1.5M |
| Novato Narrows / Transit Center | $3.2M |
| San Rafael Traffic Signals | $2.8M |
| Federal funding Larkspur extension | $20M |
| Train safety system | $3M |
| Extend from Santa Rosa to Cloverdale | $178M |
| Rail Freight Improvements | $40M |
| Add Second Station to Petaluma | $11M |
| Construct SMART Bike Path | $124M |
| Add Facilities to Stations | $120M |
| Cover Bus Partner Costs | $24M |
| Total | $1460.9M |
This could have contributed to many transportation projects and measures that would genuinely fight global warming and reduce congestion.
The True Cost of the Train is not $500 Million, as Claimed, but over $1 Billion

The Marin IJ and other news sources have conveniently shifted the focus (likely at SMART's, a major advertiser's suggestion) from the total cost of SMART to what happens to have been spent so far on construction which is roughly $429 million. How very convenient, but highly misleading.

Here's what SMART themselves say about the cost of the train, based on the 1/4c sales tax and associated bonds interest:
"Construction would cost $433 million, including $46 million for SMART's share of a parallel bike path. Operating costs are estimated at $14.2 million annually for rail, $1.3 million for shuttle bus service and $750,000 for the bike path. Factoring in 20 years of operation, inflation and the cost of borrowing against future tax revenue, SMART officials put the total cost at $1.4 billion."
Citation: http://www.pressdemocrat.com/csp/mediapool/sites/P...

Summary

As predicted, the SMART train is cannibalizing regional transportation funding that would be better spent and more desperately needed elsewhere. Rather than fighting global warming it is not only increasing greenhouse gas emissions, but it is diverting funding away from projects that would genuinely have helped with that fight.

One might say, "It had better have very high ridership if it costs this much" but ridership estimates rather than being a pivotal consideration have been a secondary consideration. The SMART Board is all at sea when it comes to working out what fares might attract reasonable ridership - finally landing on higher fares sure to make SMART's ridership even lower.

Perhaps SMART should be stripped of the term "smart" - it has surely diluted the meaning of the word.