Notice Post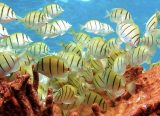 USGS
The Cowell Theater
Fort Mason Center
San Francisco, California
March 7, 2019 to February 10, 2019
---
The 16th Annual San Francisco International Ocean Festival begins March 7th, and continues through the 10th, 2019.
The films screened at the festival will include documentaries, narratives, shorts, animation, and full-length films; many of the films are making their U.S. or world premiere. Besides all the amazing films about surfing, sharks, diving or marine life, we'll be talking with local filmmakers and environmental experts in the field, to not only entertain but also better understand the current state of the ocean.
---
Tickets are now on sale for the 16th Annual International ocean film festival
Check out the 2019 IOFF Film Festival schedule.
---
2019 Volunteer registration is now open
---
Online registration for on-site volunteer positions starts today - Friday, February 1st at 12:00pm (PDT). Volunteers are encouraged to register as soon as registration becomes available, as it will fill up quickly. Check out the 2019 IOFF film schedule to see a list of what films will be shown on each day of the film festival. For more information and to sign up to volunteer for this year's International Ocean Film Festival, check out our Volunteer page.
---
Website: http://intloceanfilmfest.org/
---